This blog is about holiday prep…. whoop! Next week, we will take our first sunny (hopefully) holiday of the year. We are off to the Caribbean island of Antigua and I cannot wait! Well, that was our 10 night plan, but Richard has now been asked to work in New York before we come home, (damn work! joke) so we have extended our leave to do a stopover (so excited). We've both been separately to New York but never together, so it should be cool.
I am going to talk through what I like to do before I go away and what I like to take with me. I have to pack for a hot and cold climate this trip which I have managed in the past. I even fitted it all in to a 20kg backpack (check me!) during my travelling.
Firstly, being a vet I can never have nice nails, so going on holiday is my one opportunity to have them done properly. If I paint them myself I get bored waiting for them to dry so they often smudge or chip off. At the salon, I opt for a gel manicure. It means I don't have to think about them again and they look so cute! I usually go for a nude or peach colour so that it goes with all my outfits.
Rimmel gel nail varnish, Superdrug, £5.99
Essie, nail varnish, Superdrug, £9.99
The only other thing I will get done in the salon is my eyelashes. I used to opt for natural looking eyelash extensions but I tend to loose them quickly as I like to be in the ocean or pool on holiday, and also the heat just melts the adhesive easily. This time I'm getting LVL done. I've had it before. It's basically a tint and a perm on your own lashes to make them look like you have mascara on, fab! You can swim and do what ever and they'll be fine!
I tint my eyebrows myself because it's just so easy to do and the packet lasts for ages! I also like to keep them in place with some brow gel.
Eyebrow tint kit, Superdrug, £7.49
Eyebrow set, Superdrug, £3.99
For my skin prep, I give myself a microdermabrasion. I really exfoliate my face and then load it with vitamin C. I get such dry skin and have spent too long in the sun over the years and so I need to be careful.
Vitamin C for face, £4.99
Face suncream, £7.00
I will usually get my hair trimmed or balayage done before a trip. This time I only got a little trim as I just want the sun to lighten my hair. I do take a purple shampoo to take away the Brassey colour the sun causes. I'm not a fan of yellow tones. A deep conditioner is also a must, as is a leave in conditoner for day time. My hair gets so dry with sun and salt.
Loreal elvive, Deep conditioner, £3.35
Aussie miracle, leave in conditioner, £4.49
Lightening spray, John Frieda, £4.59
My suncream will be coconut scented for sure! It's the ultimate smell of summer and so relaxing! I use Malibu or Hawaiian tropic brands. They both smell good enough to eat but, maybe don't eat them yeh?
Malibu suncream, £4.99
I like a palmers cocoa butter as my after sun and I love a glitter oil for nighttime too.
Cocoa butter, £3.95
I'll try and take as little makeup as possible but a concealer, blusher, eyeliner pen and different lipsticks are my main products.
Rimmel blusher set, £6.99
Coral lipstick, Maybelline, £6.99
For the plane journey, I take a lip balm, a moisturiser, a deodorant and a tiny little coconut perfume, all in my little plastic bag!
I have to take a straw hat on every warm holiday. Not only is it a great sun protector, it's also good for covering messy beach hair up!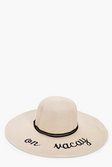 Straw hat, Boohoo, £12.00
Straw hat, Newlook, £12.99
Books I think I'd like to read on holiday are Dolly Alderton's 'Everything I know about love' and Russell Brand's 'Recovery' which I have already started.
The new dresses that I'm excited to wear are a Newlook lemon gingham one
Yellow dress, Newlook, similar here, £19.99
and a cute Topshop baby pink, gingham one ( I've gone a bit gingham mad!)
Topshop dress, £32
The swimwear I have purchased is this pinky, checked Topshop bikini
Bikini, £32
and a gorgeous applique flowered swimsuit I got online.
I cannot wait to blog about Antigua and New York!
Book a trip yourself!!! Viator can help!!!
"Tonight we can getaway"
Kelly
The Vogue Vet
X