Who else is over this weather? What is going on? I want to wear my cute dresses and sit in a beer garden! It really affects my mood when it's cold as I just can't/don't want to  get out and do things as much. I get cold very easily! First world…
Lets just dream of buying Spring stuff while we wait! Here, I have picked out a few things I want or I think will be gorgeous for the warmer weather.
First up, this gorgeous orange patterned, boho dress. It says red on the website but it looks orange to me (my fave) and it also comes in cream. I'd say pair it with clogs or converse and a basket bag – boom!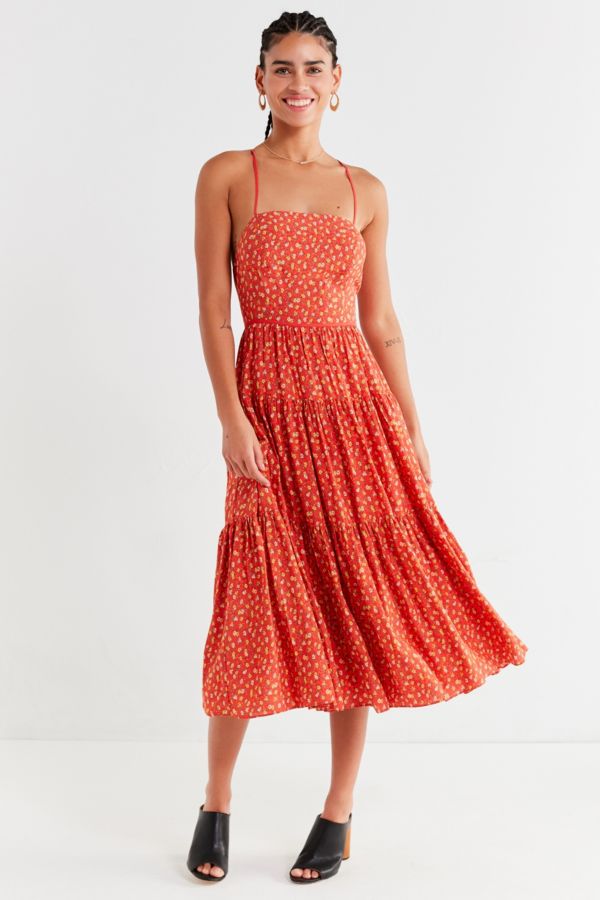 Dress, Urban Outfitters, £59.99
Dress, H&M, £19.99
I think this is a great purchsase. Expensive but will last ages and go with everything all summer! Rouje, basket bag, 125 euros
And I really want a jumpsuit too. This one looks cute, again from Rouje and it comes in green. I think the green is very, very nice!!! 180 euros
This dress from Christy Dawn is on the top of my wishlist. It's a stunning lemon bohemian maxi:
Dress, H&M, £49.99
Dress, Newlook, £19.99
Jeans, Newlook, £25.99
Trousers, Pull and bear, £19.99
I have also found this gingham dress similar to one I wore on our recent holiday, and it's only £12.99!!! Go on!!!!
Dress, Pull & Bear, £12.99
Slogan tee, Miss Selfridge, £16.00
Gorgeous satin bralet, Miss Selfridge, £18
Red tea dress, Miss Selfridge, SALE, £22.40
I've just bought this lemon summer dress, SALE, Miss Selfridge, £22.40
Cute white cardigan, Miss Selfridge, £28.00
Ivory midi skirt, Miss Selfridge, £28
Pink jumpsuit, Nobodys child, £28
Cutest tote bag ever, Zara, £19.99
And, because I love my black and red Saltwater sandals so much, I might get them in gold! Officeshoes,  £59.50
The star beauty buys at Superdrug this week, that I will be purchasing are:
For my horrendously dry skin, Nip and Fab, Hyaluronic shot, HALF PRICE, £12.19
For the same reason and also the fab smell, Astral moisteriser, £3.00
Happy Easter, buy clothes not eggs!
Kelly
The Vogue Vet
x