I wanted to do a blog all about lingerie, swimwear and nightwear. These are some of my favourite things to buy and my 'go to' shops for them are Topshop and Urban outfitters. I have recently however, discovered that 'Monki' and 'And other stories' do a great range of swimwear and 'Love Stories' do some cute bras and knickers.
My go to bra is a bralet. I love a bralet and they have so many choices in Topshop and Urban Outfitters. I also love comfy knickers and I have struggled to find them over the last few months.I want a proper full brief that is also pretty – thats not much to ask is it? Maybe I should design some. I feel like the only good ones are expensive! If anyone has some faves for knickers that are not too pricey, then please let me know! Below are some of my picks for comfy knickers and bras:
Briefs, Next £15
Lace brief, Newlook £5.99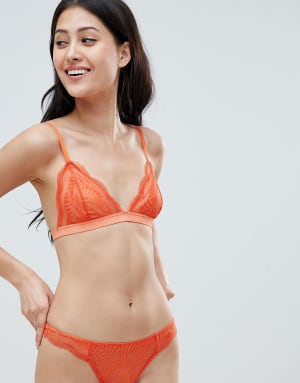 Orange bralet, Asos, £12
Frill knickers, Topshop, £5
Satin under wired bra, Topshop £18
For swimwear, I have recently purchased this lilac swimsuit with yellow frill. It was from Monki, fits perfectly and is very comfortable. I can't wait to wear it in Portugual in July. I do love a swimsuit because I do actually like to swim when I'm on holiday…mainly burn off all those extra food and wine calories!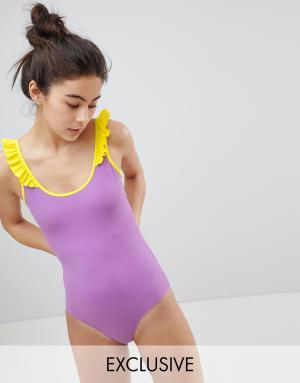 Lilac and yellow swimsuit, Asos £15
I have also gone back the high waisted bikini recently. I used to be obsessed with a high waist but turned to low rise and swimsuits for a little while. Anyway, I just bought this jungle/parrot themed one, again from Monki and it is beaut!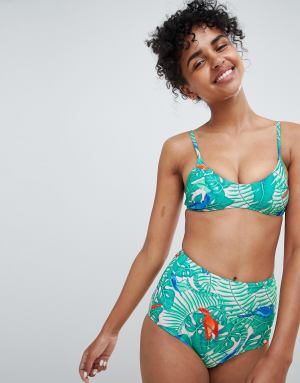 High waitsed bikini, Monki, Top £15 Bottoms £10
And finally, we get to nightwear. I love my bed and I love to sleep, only because I don't sleep well so I need to try and get a lot of hours in. It is something I have tried everything to help with and something that plays on my mind constantly. So, thinking about what to wear for bed, again it has to be comfortable. If I'm on holiday I love a little nighty. The last two I purchased were Topshop ones. Here are some pieces I have found recently that I would certainly go for:
Lilac stain nightwear, Topshop, £26
Cream romper, topshop £32
Striped pyjamas, Topshop £26
I also do enjoy a two piece and I recently got one in the Accessorize sale. Its a gingham number with a bit of embroidery – two of my favourite things! I never really shop there but I find their lingerie and nightwear is lovely!
Two piece nightwear, Accessorize SALE£12
So, enjoy the fashion that nobody really sees too!
Kelly
The Vogue Vet
x