Over the last couple of months I've purchased a few things I wouldn't normally go for like new brands or new beauty products, so I want to share with you my reccomendations.
Firstly, a book. I bought a hard back book off Amazon. If you ask my sister she will tell you I never ever read. I used to read like crazy as a kid but then Veterinary medicine reading kind of took over. However, over the past few months I've read a few books and I recently purchased Rebecca Front's 'Impossible things before breakfast' which I cannot wait to start. It's a funny tale of life lessons and you can grab it here!
Next, some beauty products. I started following 'Pixi by Petra' on instagram recently and I really fancied trying their 'Peel and polish' scrub in preparation for our Portugualholiday. It was mainly so that I could do a few facials at home before I go so my skin is prepped and I dont have to visit a salon for it. I have to say, it is fab. Its a srcub that you massage and leave on for 2 minutes and it has done my skin wonders. I bought it in a multipack that included the 'Glow tonic' which has glycolic acid and aloe vera in it and the 'Rose flash balm' for a skin boost. I am in love with all of the products. I also went to a fashion talk in which their glitter sticks were given in the goodie bags. These are also very cool and easy for festival makeup.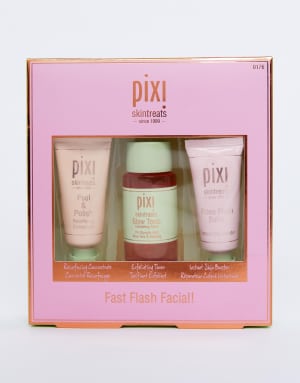 Pixi beauty set, £20
A bag….a bag you must have all seen because I've worn it loads…my beaded Topshop bag. I have never had a bead bag before but I haven't put it down. Topshop do the multi-coloured one like I got or an all blue or pink verison. Go on….
Beaded bag, Topshop£29
Primark dresses! Honestly guys go and get a few little wrap dresses for only a tenner! Primark really have gone all out and made some lovely patterned and colourful dresses this summer. All three of the dresses below and Primark specials!
Art work. Fanclub clothing have branched out from tees and sweaters in to artwork, and I have picked two pieces that I love. One is a Beatles inspired piece and one is 'Face the strange'. Go and have a look if you want to spruce up your decor with a funky picture!
Art work, fanclub clothing Art section £18
Earrings! I don't really wear earrings apart from the odd hoop but saw this style on somebody and really wanted to try it. I just need to work out how to style it and my hair when I wear them 🙂
Earrings, Newlook, £4.99
Lastly, a cat. Well I wouldn't class it as a purchase but we gave a cat a home. A stray came to the clinic and he was such a dude so he won me over and is now ours. He has medium hair and what looks like a mane so, continuing my musician theme for pet names ( I already have Shirley Bassey and Jim Morrison at home with my parents), we went with 'Lionel Richie' as in Lion…. good isn't it! And now the blog title should make sense 🙂
Kelly
The Vogue Vet
x